NEW YORK (AP) -- What could a Chinese dumpling maker and Mexican telecom mogul possibly have in common? They're among a record number of wealthy people who held the title of billionaire over the past year. The tally of billionaires around the globe reached a high of 946, their combined wealth growing 35 percent to $3.5 trillion, according to Forbes magazine's 2007 rankings of the world's richest people.
The rich cashed in on strong equity markets, real estate and commodity prices worldwide, according to Forbes billionaires co-editor Luisa Kroll.
"It's just been kind of an extraordinary year for markets worldwide," she said.
Leading the list are two men who manage to keep getting richer as they give more and more money away. Microsoft founder Bill Gates ranked No. 1 for the 13th straight year, beating out friend and fellow philanthropist Warren Buffett, chairman of Berkshire Hathaway Inc.
Gates's fortune rose $6 billion to $56 billion last year, while Buffett garnered in an additional $10 billion to boost his net worth to $52 billion.
Only five Americans ranked in the top 20, though they account for 44 percent of the overall list.
Breathing down Buffett's neck was Mexican telecom giant Carlos Slim Helu, who added $19 billion to his existing fortune, the largest one-year gain over the past decade. With $49 billion to his name, Helu was just $3 billion shy of the No. 2 spot.
Starbucks Corp. chairman Howard Schultz and former Disney CEO Michael Eisner joined the ranks of the world's richest for the first time, behind new faces Mike Lazaridis and Jim Balsillie, Canadian co-chiefs of Blackberry maker Research In Motion Ltd.
Self-made mogul Li Wei, founder of Synear Food Holding, made the list for the first time along with a dozen other Chinese newcomers. Her company, one of the country's largest producers of frozen food, including sweet and meat dumplings, is an official supplier to the 2008 Beijing Summer Olympics.
All bets were off for online gambling moguls Ruth Parasol, Russell DeLeon and Calvin Ayre, who dropped from the list after recent crackdowns limiting offshore gambling Web sites.
Bumped from the top 20 were the Wal-Mart Stores Inc. heirs, who saw their company's stock languish, and Michael Dell, founder of computer maker Dell Inc. Losing billionaire status entirely was Yoshiaki Tsutsumi, the once-powerful Japanese industrialist who first topped the tally in 1987.
Japan surrendered its title as Asia's leading billionaire locale to India, which boasts 36 megarich on the list. Russia contributed 53 billionaires and now challenges Germany as home to the most billionaires outside the United States.
Among three Indians in the wealthiest top 20 are Mukesh and Anil Ambani, feuding brothers who got even richer after dividing their fortunes in 2005. Mukesh Ambani ranked 14th with a $20.1 billion fortune, while brother Anil came in four places lower at No. 18 with his $18.2 billion.
The methodology of the rankings remains similar to previous years, Kroll said. The magazine confirmed the worth of an individual's holdings in public companies by using the Feb. 9 closing stock price, and estimated the value of private companies by evaluating comparable public firms in the industry and by consulting with experts in the field.
END | SOURCE
---
Comment from webmaster of Jesus-is-Savior.com...
18,000 kids die every day from starvation...
Some 18,000 children die every day because of hunger and malnutrition and 850 million people go to bed every night with empty stomachs, a "terrible indictment of the world in 2007," the head of the U.N. food agency said. -SOURCE
How sad and tragic! Even more tragic is WHY they are starving ... because of a greedy and selfish world that cares not for the poor. The United Nations is nothing more than a smokescreen for a global police state. We hear much talk about UN Aid for the poor, but the starvation continues. How is it that mankind can land a robot on Mars, build jets that travel 10 times the speed of sound, predict an eclipse 100 years from now to the minute, and so much more; but we can't prevent the poor from starving to death? It is a sore evil!
It's hard to imagine Hollywood celebrities throwing $100,000 parties, while Nigerians die for lack of a $10 bag of grain. While millions of people are starving to death in places like Africa, India, Afghanistan, Indonesia, and Timor, the rich are wasting billions of dollars on foolishness. I read this week in the news that rich people are paying upwards of $20,000,000 EACH for a space shuttle ride! That's for a single ride! So many wealthy people have signed up for the 20 million dollar space ride that the agency is booked until 2009...
As of 2006, space tourism is only affordable to wealthy individuals and corporations, with the Russian space program providing transport. It has become so popular that, even at $20 million a ticket, the Russian Space Agency is fully booked until 2009 -SOURCE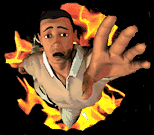 Read More...
Greed! The total sum of wealth for the 946 billionaires is a staggering $3,500,000,000,000!!! Yet 18,000 poor children starve to death DAILY. It's the people with the most money who are in positions of power to make things happen, but they don't... at least not to help prevent children from starving to death. The Word of God speaks to these 946 billionaires...